Close
Our Winemaker
One of our most important techniques in Simone's winemaking is to add an extremely minimal, sometimes absent, content of sulfites. The final sulfite content of our wines at bottling is between undetectable to 35ppm (parts per million), which is ten times less than the legal limits set in the US. We firmly believe that the antioxidant effect that generally other producers rely upon with the use of sulfites can be totally replaced by the natural antioxidant potential of the grapes and yeasts constituents involved in the transformation of the juice into wine. Our multi-awarded wines are the "living" proof of this theory as after years of aging they don't show any hint of deterioration due to the oxygen's reactions despite being deprived of the sulfites.
Because of the importance of having the natural grapes components preserved, whenever possible, we do not filter or stabilize the wines, and we never use fining agents. The results of this process is to create healthier wines, with the respect of the integrity of the grapes and the expected quality level. The importance of this process would be meaningless if the final product would not meet our standards. Above all we aim for healthier and superior quality wines.
Close
Vineyards
70% of our current production comes from the native Muscadine grape, grown in several locations in north and south Georgia. Specifically, we work with the white Carlos variety and the red Noble variety. Our indigenous Muscadine has adapted to the Georgia terroir like no other grape, showing resistance to all main plant diseases and thriving with our southern climate. Therefore it's extremely easy to grow, to manage and it is always very generous with amazing yields and constant quality.
The remaining 30% of our wines come from grapes grown in California, specifically in the Lake County and Clarksburg areas. For the most part, they are coming from gorgeous sustainable farmed certified vineyards, offering superior to super premium quality grapes every year. The 18 varieties of grapes from California are transported fresh as full clusters at 27 degrees F from the field to our winery in Georgia where the winemaking process happens from beginning to end.
Our Winemaker
Originally from Ceresole d'Alba, Simone Bergese holds degrees in Oenology and Viticulture from the Turin University in Northern Italy. While known for his minimalistic approach and high-quality standard, Simone insists that the most important factor in his winemaking process is the caliber of grape. This standard consistently yields a product that makes sustainable and award-winning wines.
Learn More
The Team
Our winery team is made up a hand-selected group of passionate people love the wine industry, from vineyard to bottle. Amassing over seventy years of experience in wine, it's no surprise that Chateau Elan Winery continuously raises the bar and never fails to impress. Hard work, great visions, and big dreams— that's the recipe of our success.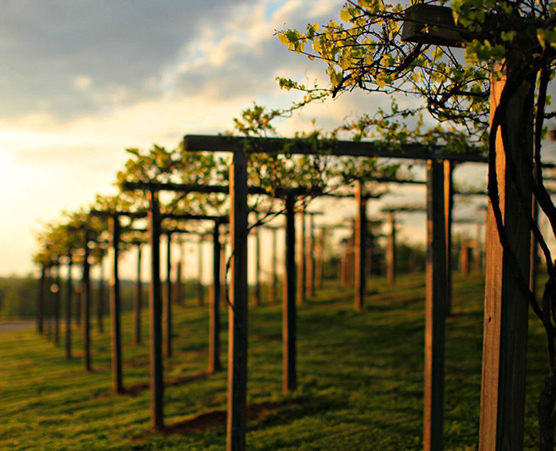 Vineyards
Simplicity and sustainability above everything else — that's our all philosophy behind selecting each of our grape variety and terroirs. Our more holistic approach is guided by instinct and more than 20 years of observation and experience, resulting in superior, sustainable and healthier wines.
Learn More